Software Development
MBS-NL provides customized software solutions, web development, client/server applications in Microsoft .NET, Java, ASP, PHP, MySQL, VB, SQL Server. We have experience in developing web enabled applications and multitier database applications as well as stand alone desktop solutions.

We do application development on both Microsoft and Linux platforms with the offshore model. Focused on delivering customized application software solutions in client/server architecture and in web domain, we also cover more routine but necessary tasks like application maintenance, bug fixing, enhancements, application expansion, web solution testing, and web publishing.
MBS-NL software services are delivered on time, within budget, and to impeccable quality standards. A combination of technical expertise, project management skills, and client-centric focus is what makes it happen. Weíre more than just a vendor, weíre a partner, because we donít win until you do; and winning is what itís all about.
read more>>
Contact Center
Convenience, response, resolution; and a friendly voice to talk to. Thatís what your customers want from a contact center and thatís what we provide, in any medium you choose.

We offer a full array of inbound and outbound contact center services, including traditional live agent inbound support, email/chatroom, Interactive Voice Response (IVR), and outbound business-to-business programs. Whether your requirement is order placement, inquiry and assistance, or problem resolution, our contact center professionals will provide your customers the efficient and pleasant experience they expect and deserve.
read more>>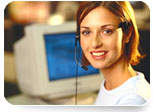 Data Processing
MBS-NL provides a broad range of Data Entry services, including On-line Data Entry, Forms/Invoice/Claims Processing, OCR Clean up, Web Research, Mailing List Compilation, Data Conversion, Data Base Update, and Image Keying including double- and triple-rekey and the insertion of searchable tags.
While our bread-and-butter is continuous high-volume applications, our services are also available for one-time projects and on-call support for business, research, educational, and historical organizations. Large job or small, long-term or short, we apply the same stringent standards of excellence to whatever we do.
And we enjoy a challenge. Got a tough one? Or something unusual? Let us take a crack at it. If we donít think we can do an excellent job for you, youíll know right up front, no charge. We know that we only win when you do.
read more>>